Loft – Skyloft Market Square For Lease 101 Curry – Royal Oak, MI
Downtown Loft for Lease in the beautiful Skyloft Market Square building. This 2 Bedroom unit has complete southern exposure offering tons of natural light year round. This uniquely designed loft has an abundance of granite counter space, beautiful appliances and custom painted walls. This lease is also available furnished for $2,700/month.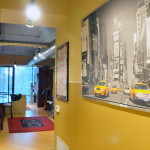 You can follow any responses to this entry through the RSS 2.0 feed.
2 Comments